Let's talk about Google+ for a hot minute. Errbody else is, and I can't resist a good bandwagon.
I first learned of our new social media overlord's existence on Twitter, where I get most of my news. And my immediate reaction was, "Oh, fuck."
I ignored it for a couple of days. Stuck my fingers in my ears and sang LA, LA, LA. Didn't want to see it. Hoped it would go away.
No dice.
Soon I was getting notifications that I'd been added to these cultish-sounding Circles and I knew I had to shake hands with reality. Google+ is here.
It may not be here to stay, but dammit, it has parked its ass on the couch with a beer and your remote and it isn't hitting the door anytime soon.
Okay, fine, I admit it. Once I started getting notifications I wanted in. I like being FIRST! at new online servies, even if I discard them like an OK Cupid date if they don't put out. I wanted my wristband into the potentially happening new party just in case the venue became overrun.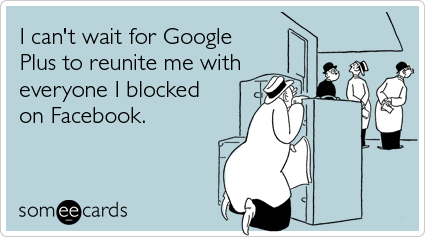 I got my invite, walked past the rope, took a look around the club, saw a few familiar faces and a lot of white space. Then I left.
I'm scared to go back.
Google+ is, I fear, a part-time job I desperately don't want to take. But if I want to eat, I will. As a blogger, marketer, outreacher it is essential that I stay abreast in social media, new and old. I enjoy it, so really, no complaints, but with Google+ I am afraid it's going to be a huge project that ends up sucking major time.
My attention is already splintered by the likes of Google Reader, Facebook, Twitter, Foursquare, Instagram, and shall I go on? Will Google+ supplant all of those? Or will it become one more digital commitment?
I don't know. And I'm frightened to find out.
[Image via cambodia4kidsorg]